Our Most Recent Images - February 2013
While all of the images displayed here are now available in the gallery as Canvas Prints and our premium quality Floating Acrylic Prints, Altona Jetty, Sunset Surf'n and Wallace's Hut are also available as our fantastic Acrylic Desktop Frames.
Our desktop frames arrive beautifully gift boxed and make the perfect present for that someone special in your life.

"This particular morning was a text-book example of how an unpromising, dreary and uneventful dawn can, almost as if by magic, transform into an amazing light show. Had there not been the perfect layering of clouds, this shot would've never eventuated - it's a game of luck and determination, and this time I got the light I'd been waiting for!
The spectacle only lasted a couple of minutes, having begun the moment the sun breached the horizon and its rays squeezed through the layers of cloud. It didn't take long for the sun to rapidly disappear behind some heavy cloud, but this was enough for the quick burst of gorgeous colour that you see here." - Bernie

"Although I didn't quite get the light show I was hoping for, the sun still managed to shine through some of its brilliance and boost an otherwise dreary morning at Altona Pier." - Bernie

"What a spectacular afternoon to be having a surf or a swim at Currumbin Alley. The waves were perfect, the water temperature spot on and the sunset & clouds spectacular.
I longed for the days when I use to paddle out on my boogie board and for a fleeting moment thought "I should buy myself another"... then reality kicked in and I realised that I would get creamed by even the smallest of grommets who surf the Alley these days." - Russell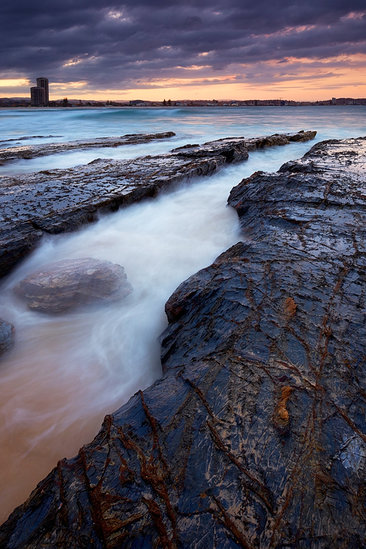 "Currumbin is a popular location for photographers, as it offers interesting rock formations and a near 270 degree view over water.... including back over water to sunset, something that is not always easy here on the east coast." - Russell
"Ok it's a weird name I know, but I can see a brown dog wearing a grey jacket in the rocks bottom right. How about you, can you see it.... or have I been processing images too long?" - Russell
"There is already a vertical image of this scene in the gallery, but after revisiting my files I decided to include this version also, as I like the serpent like cloud formation on the left.
I don't know exactly what kind of cloud this is, but it looks a little like a small version of the 'Roll Cloud' that we see in Australia's far north." - Russell

"This is a very simple composition, but I found the contrast of the smooth blue sky against the textured green field quite appealing." - Russell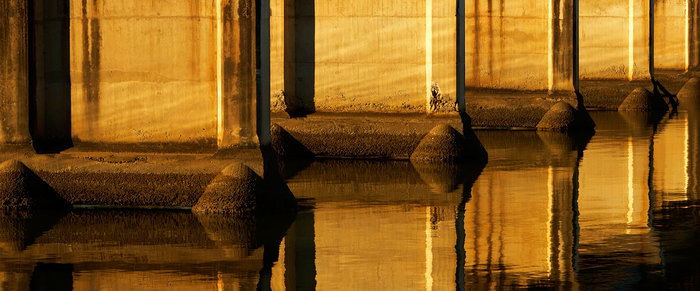 "It's not always about the landscape for us, often within the wider landscape there are plays of light, reflections, patterns or even subjects of historic significance. We don't want to ignore these, as they can quite often make for an interesting image on their own.
Here the historic "Old Coomer Bridge" catches some magnificent golden light light, while the Coomera River reflects this light and completes an interesting repetitive patern" - Russell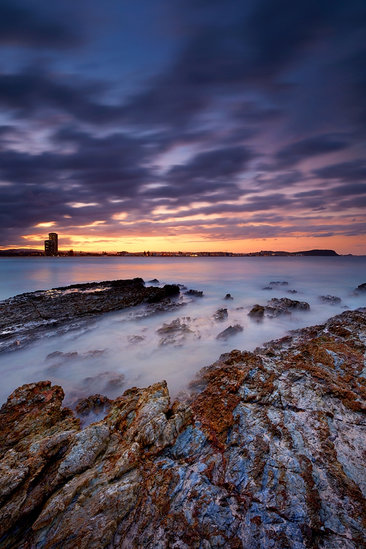 "My first real shooting session after time off for injury and my first real shooting session with a new camera.
So I will admit that I was in a bit of a daze, as nothing was coming naturally. This was the last shot for that daze and also for the day." - Russell
"Yup... a windmill on a hill with some clouds at sunset... it doesn't get any simpler than this." - Russell
"Built in 1889 by the Wallace brothers William & Stewart, this hut is the elderly statesman of the Bogong High Plains Alpine NP.
It's original Woolybutt roof shingles have long been replaced by corrugated iron, but the character and photographic appeal remains.
This photo is from what Bernie & I would consider our "early days of digital" and we can't wait to get back for a winter shoot with our current crop of cameras." - Russell

"Ladies Bath Falls is possibly the most spectacularly beautiful place that we have ever been.
Imagine my shock when we found this location by pure chance. Each and every rock, from the largest to the smallest on the bottom of the stream, looks to have been thoughtfully placed by a Master Landscape Architect.
This is not a place that you can simply walk into and start taking photographs.... it needs to be absorbed, quietly enjoyed ....then, once your senses have returned from overload, the image taking can commence." - Russell