Our Mounts & Frames
While our premium Floating Acrylic Mounts and Canvas Prints are available for purchase via this online gallery, we offer traditional Paper Matte & Frame presentations on request.
Floating Acrylic:
We believe this mounting system to be the very best image mounting system currently available. It has been extremely popular in Europe for a number of years and AustralianLight is proud to be one of the first Australian galleries offering this premium product as standard.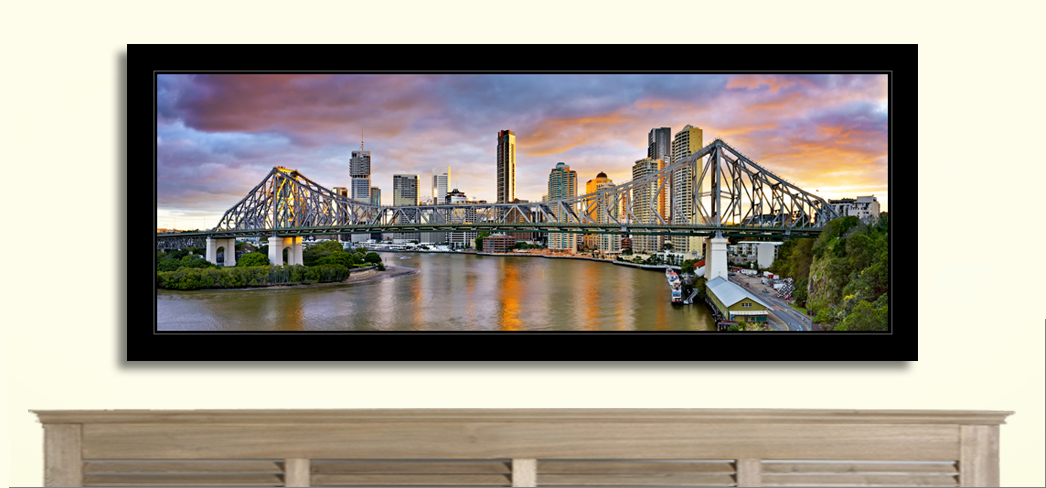 Each print is professionally face-mounted behind optically clear acrylic and is backed with an aluminium composite panel for strength. An aluminium sub-frame is then attached for further strengthening and hanging.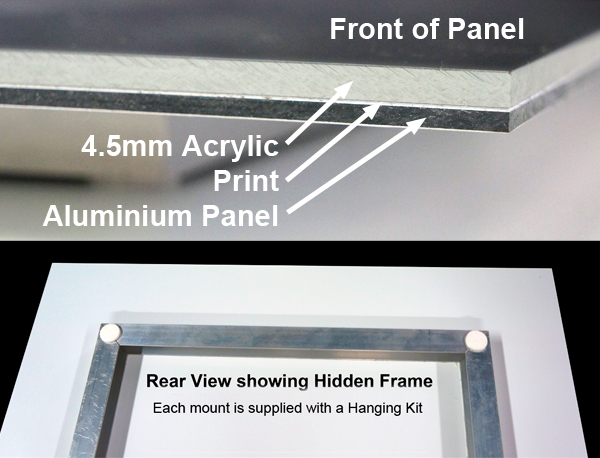 While our Floating Acrylic Mounts are Ready To Hang, they are also Ready To Frame.
Once framed, they take on a more traditional look, while maintaining the additional benefits of the Floating Acrylic mounting system....
images are locked away from the harmful effects of the air and this greatly adds to their archival lifespan.

added safety of acrylic over glass.

ultra smooth finish of the aluminium mount.

the ability to hang without a frame for a crisp modern look.

wall bracket hanging system that ensures no movement once hung
We understand that the addition of a frame will remain the popular choice, so our web site offers a selection of mouldings to cover the most popular needs. We are not limited to these however and should you require something specific, please do not hesitate to contact us.
If you are unsure about what frame will suit your application, then we are happy for you to use your local framing service, as they will often provide sample mattes and mouldings to aid your decision.
Canvas Prints:
All of our Canvas Prints are finished with a side Mirror Wrap. This wrap is in addition to the original image and does not reduce the image display size. It is also far more pleasing than single colour sides.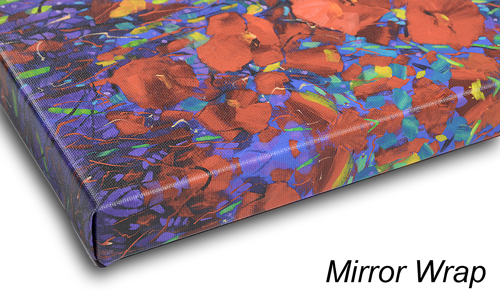 We use a Cotton/Poly blend canvas that has a great texture, solid feel and weight.
This canvas is made in America and is far superior to cheap Chinese imported products.
This canvas has a high archival ratings and is printed with 12 colour Canon Lucia EX pigment Inks and has been laboratory tested to last over 100 years without fading when displayed correctly. Canon inks have been proven to last almost half as long again as Epson inks. These inks offer a very wide colour gamut which means your prints will be more true to colour.
Your canvas is spray-coated with Aquathane Laminate for added protection. Aquathane provides your canvas with high flexibility, extra scratch resistance, anti-fungal ultra clear finish and most importantly, a superior Ultra Violet Light Blocking Ability.
Our Stretcher Bars are made from environmentally friendly, Queensland grown, kiln dried, Araucaria pine and New Zealand Radiata Pine and they do not warp. All of our timber bars originate from regrowth forests. We do not use Australian hardwood timber (Eucalypts such as Vic Ash or Tassie Oak) or non-regrowth Asian rainforest timber (Meranti). Many of these products contain large amounts of tannin or tannic acid, which may be detrimental to archival (acid free) products. In addition to the acidic content issue, the use of non regrowth forest contributes to global warming and climate change.
The edges of the stretcher bars are all rounded to give a beautiful smooth finish to the stretched canvas.
Note: Gallery Frame Previews are simulations and are not to scale - they are intended as a guide to colour combinations only. Please visit our mouldings page for a more accurate representation of frame moulds, colours and textures.