July's Exciting Fine Art Print Releases
Please follow the image links for display options and pricing...

Natural Bridge, Glow Worm Cave - Russell Stewart

The Natural Bridge is located close to both the Gold Coast in Queensland and Murwillumbah in NSW, so it's a popular stop on the daytime "tourist loop".
The basalt cave is also popular with the tourists at night, as it provides a home to the largest glow worm colony in Australia.
If you plan to visit and photograph this area, please remember to disable your camera's flash as the light emmitted can make glow worms rather angry.... and trust me, you DON'T want to be messing with a large group of angry glow worms!
- Russell
The Old Austin - Russell Stewart
The landscape location for sunset on this day didn't work out as planned, but thankfully I knew of this truck on the roadside only a short drive away. It's nice to have a fall-back when things don't work out, as there is nothing worse than having just an empty fuel tank to show for your efforts.
I have processed this image several times and those who follow us on Facebook will know that I toyed with a desaturated version, but in the end I have decided on a simple natural look for the gallery image.
- Russell
Span Of Time - Bernie Zajac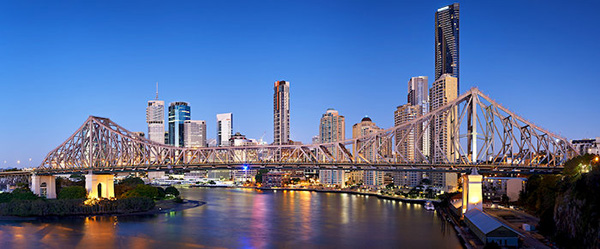 One of Brisbane's most iconic structures - the Story Bridge.
A vista that's widely popular as a sunset location, but not so commonly captured at sunrise as the buildings come alive with a brilliant metallic sheen.
I'd been waiting for Winter to settle in before I could capture this shot - as it brings the crisp cloudless skies which provide fantastic contrast for these cityscape scenes.
- Bernie