AusLight SpotLight #1
As we grow our business, we think it important that we display our images in the public arena. This not only presents our images in their most impressive state (something that is simply not possible on the web), but it also gives us some valuable feedback on our photography and also the quality of the product that we present.
So what better way to do this, than at community fundriasers.
This past weekend we had the opportunity to present one of our canvas prints for auction at the Highland Reserve State School P&C "Highland Fling" fund raising event.
It was great to receive lots of positive feedback and wonderful to see our name displayed so predominantly on the big screen. ;)
...and just a couple of months ago The Goda Foundation auctioned two or our framed acrylic prints "Reborn" and "Dicky's Fire in the Sky" at their Gala Ball held at Jupiters Casino. This was an amazingly lavish event and our Acrylic Mounted Prints (our premier product) received a lot of attention and attracted some very healthy bidding.
Both the Highland Fling and Goda Foundation Ball are conducted for the benefit of school children and we are pleased that AustralianLight could help in some small way.
In addition to these fund raising events, two of our images were displayed at The Digital Conference presented by the PMA in Melbourne recently.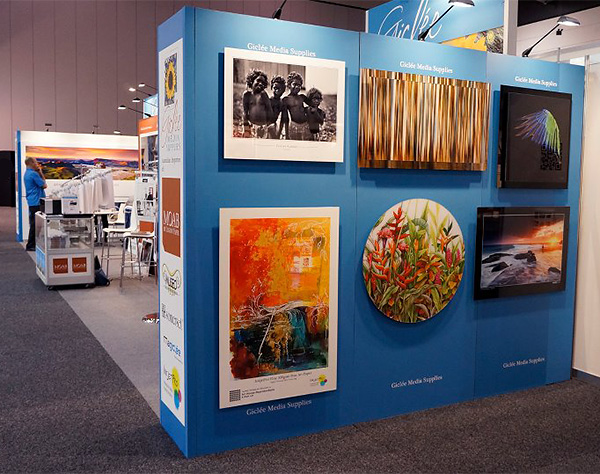 "Eucalypt Forest" and "Breaking Dawn in Angourie" helped form the Giclee Media Supplies stand and were expertly prepared by our good friend Mark at InkJet Lab.
In the image above, you can see that Mark has created "Eucalypt Forest" as a custom 3D double acrylic. While you won't find this option in our shopping cart, we are more than happy to create custom presentations on request.
Cheers, Russell & Bernie.